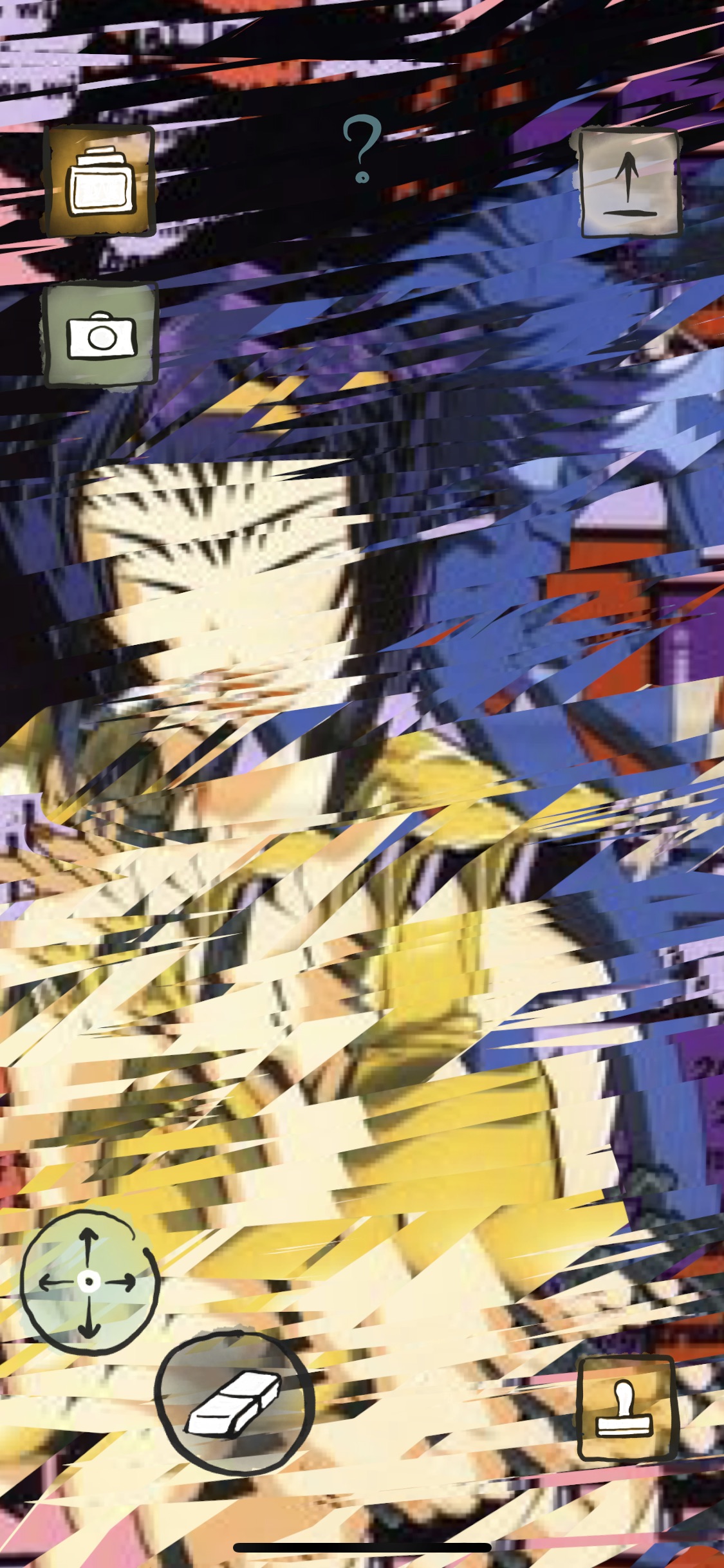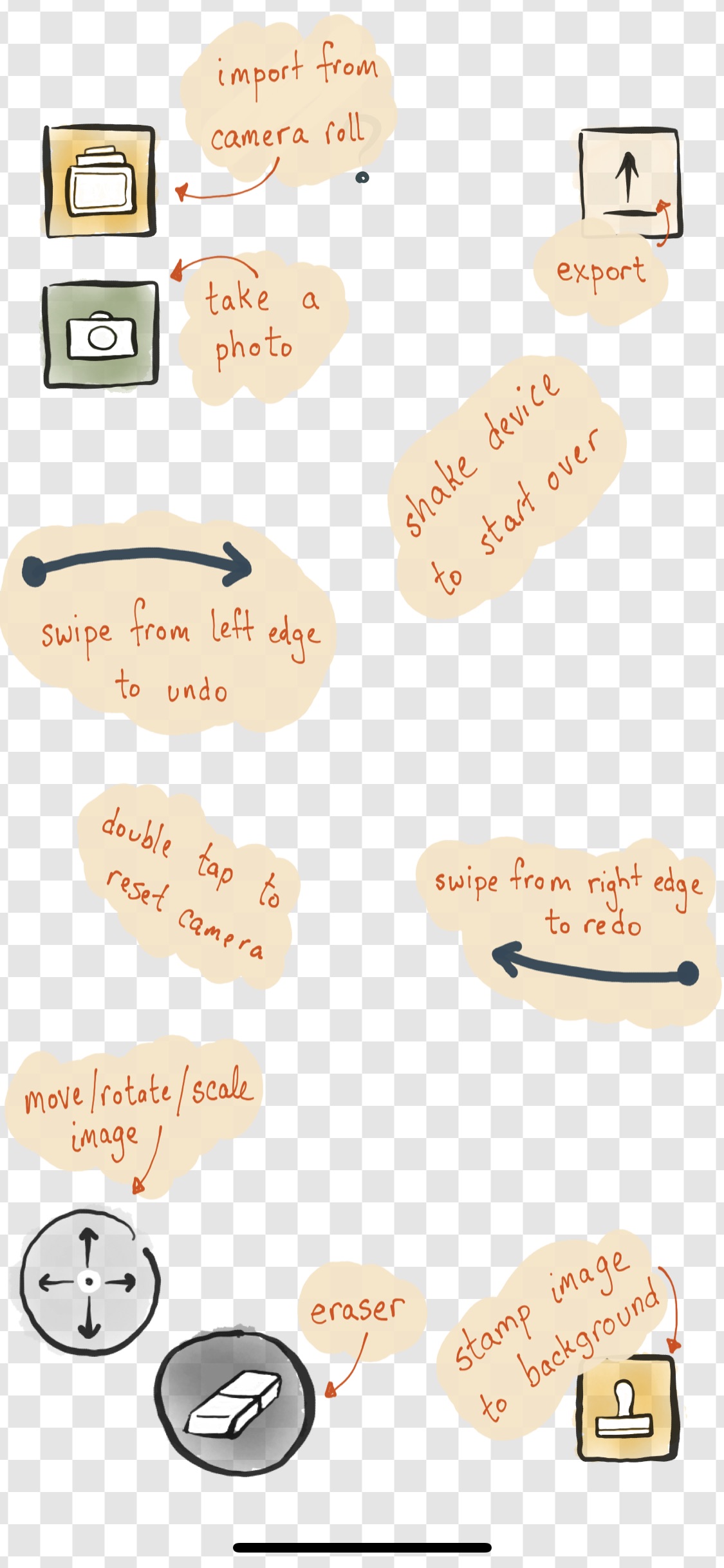 Touchup
Quickly mask and collage images.
Features
Erase by scrubbing with your finger
Position image with pinch-pan gesture
Simple, single-screen interface
Inline help overlay
Quick undo/redo actions
Stamp image to background
Powered by Core Image
Easy export to camera roll
Video support
Takeaways
Learned how to use Core Image shaders
Learned about exporting buffers from Core Image to Core Video to export video
Really liked the simplicity of the inline help overlay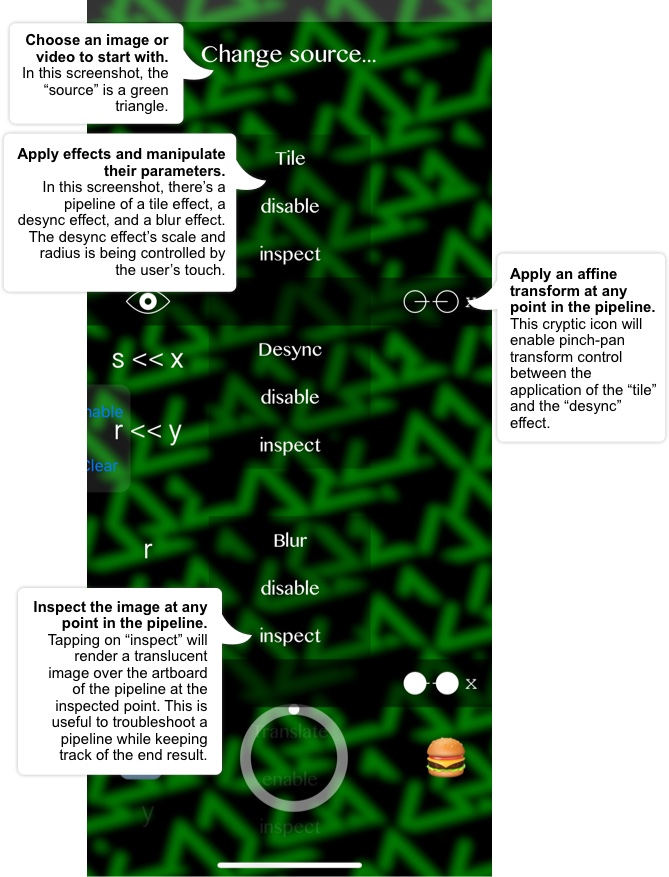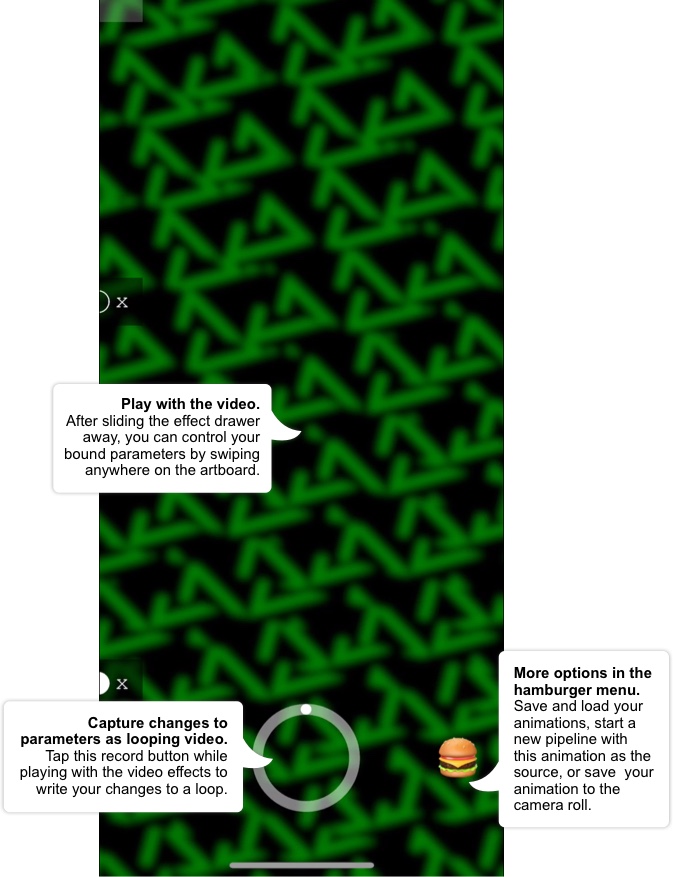 Voodoo
Apply and animate shaders on an image or video.
Features
Easily set up a pipeline of Core Image video effects over a base video or image
Manipulate effects by binding effect parameters to touches
Animate and loop changes to effect parameters
Sequence changes to effect parameters with a step sequencer
Easily inspect the result of a subset of the pipeline
Export animation to camera roll
Use an animation as the base material of a new effect pipeline
Takeaways
Had a lot of fun playing with this on the subway.
Limiting the number of effects in the pipeline keeps the user experience simple; allowing the user to "chain" pipelines keeps the tool powerful.
Easily recording changes with a camera-like interface is fun and easy, but tough to make a clean loop. A quantized sequencer helps to keep things clean.
The interface for binding parameters to touch input is clunky: it's slow to configure, and doesn't clearly communicate the structure of the bindings. (I implemented the simplest thing, and designed a whole bunch of alternatives. I think there were a couple of slightly better alternatives in the pile; but, in general, I think "patching interfaces" is a tough problem on a small screen.)
I was idealizing linear bindings from touch position to parameter changes, because I believed direct control would allow the user to get different styles of animation by learning to "perform" those styles (e.g. get a bouncy animation by learning how to gesture bouncily). This is not really possible. Figuring out a way to define non-linear mappings between input and controlled parameters would help make more dynamic animations.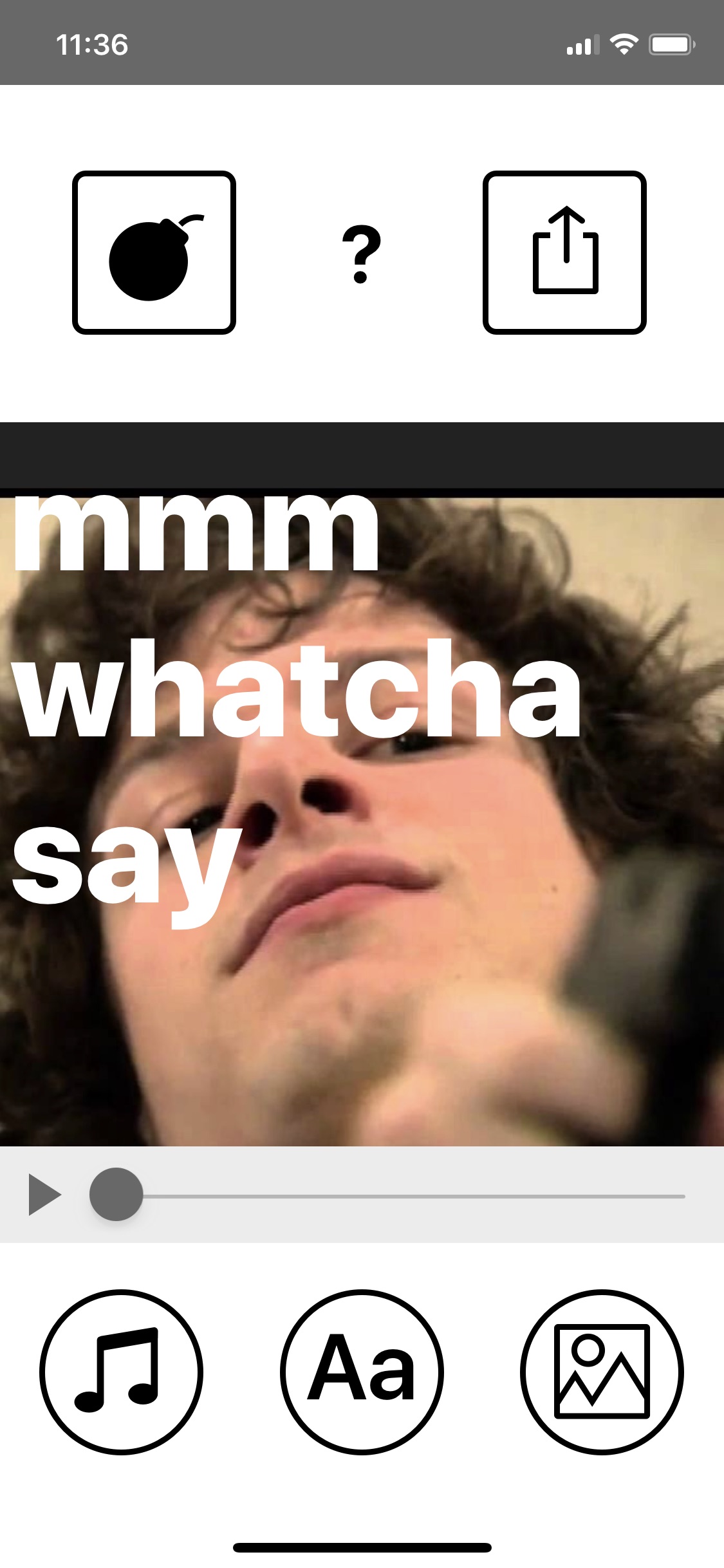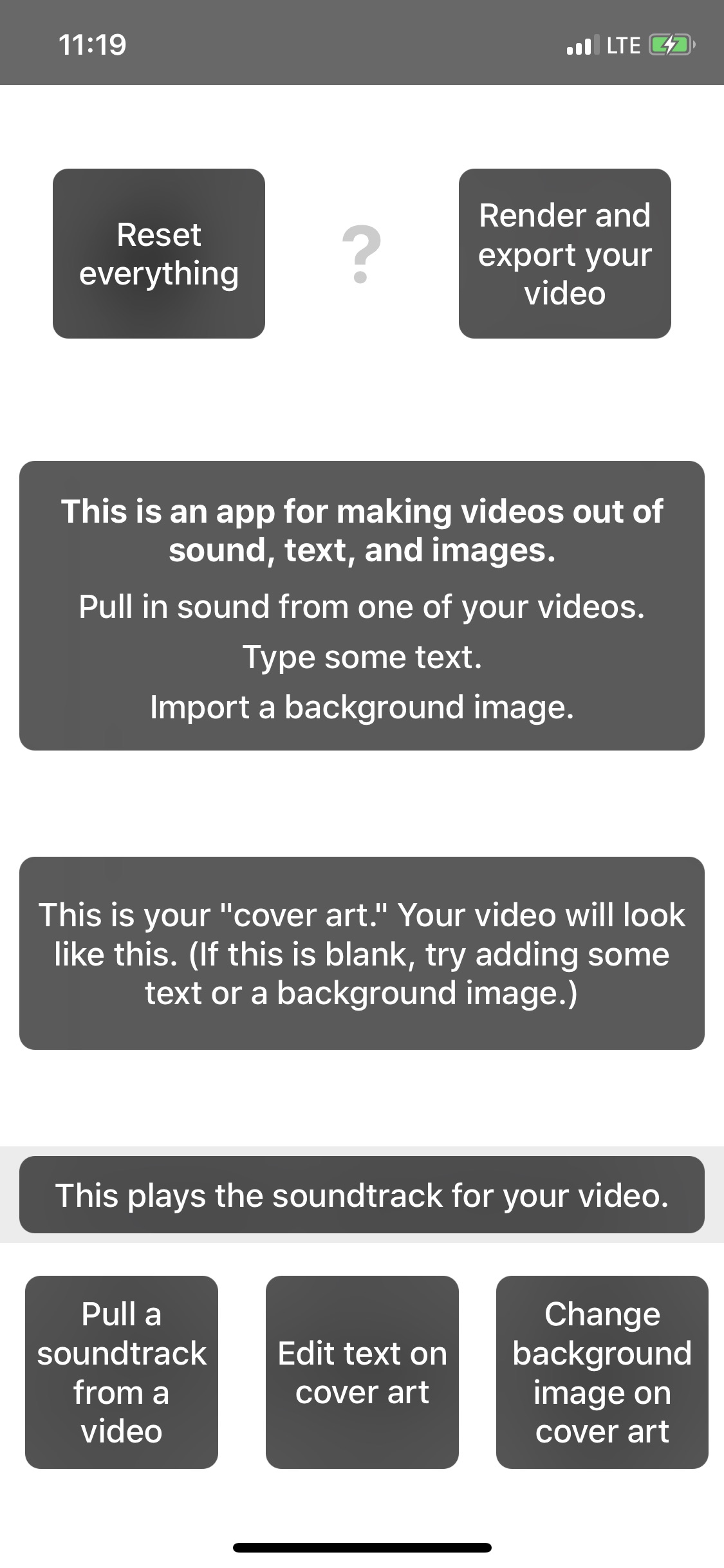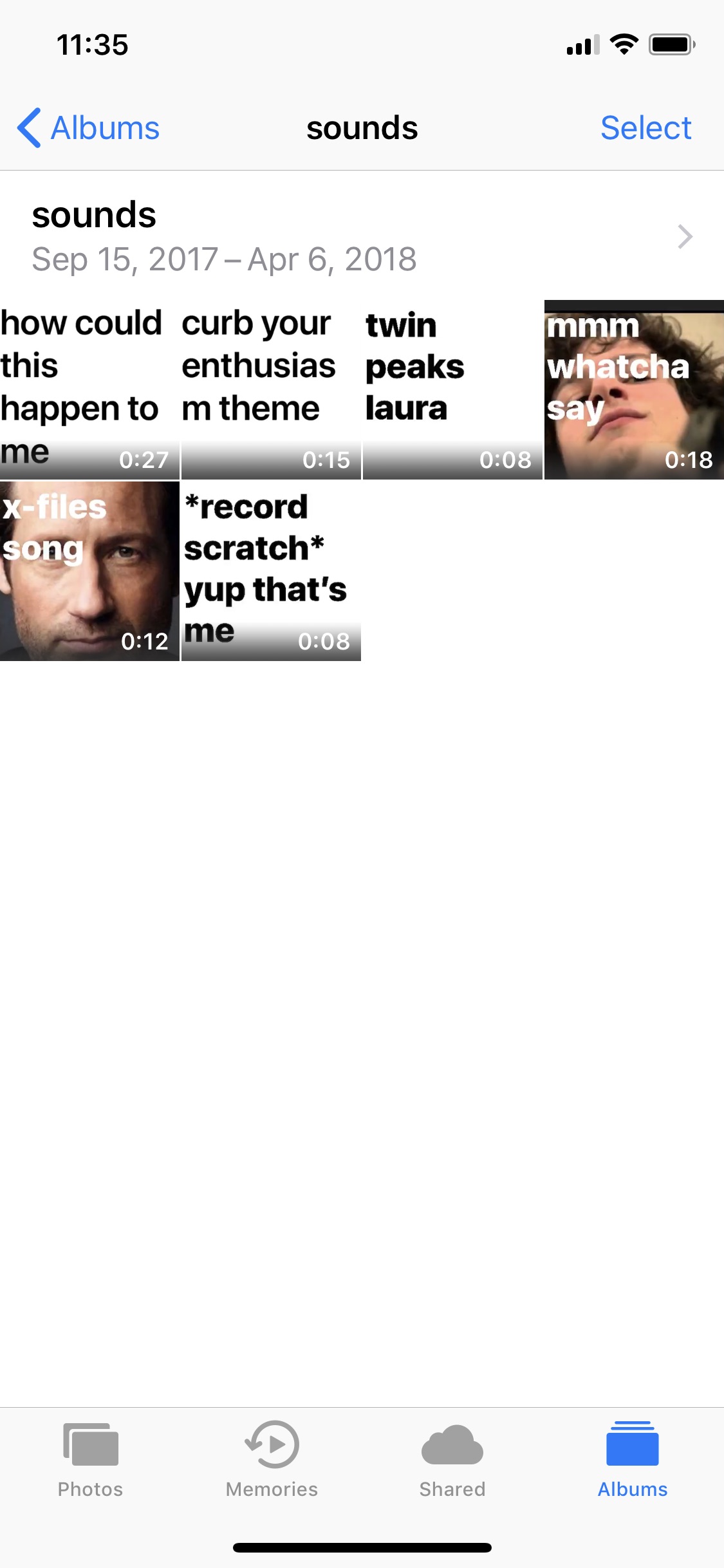 Milkcrate
Create "album art" videos from sound, text, and images.
I made this as a utility to support another video app I was working on. In that app, the user could add a soundtrack by importing sound from a previously-captured video. I used this feature in tandem with iOS's screen recording feature to grab sound from Spotify or YouTube to put into my videos; but it was tough to find a specific sound by scanning my camera roll. Using this app to add "album art" to those soundtrack videos, I could easily find the sounds I wanted.
Features
Single-screen interface
Inline help overlay
Arrange text and background image to create album art
Export as video to camera roll
Takeaways
Felt good to turn my camera roll into a slightly more functional file system :)
Learned more about AVComposition
I'd love to talk about any of these.